John 3:16

For God so loved the world that He gave His only begotten Son, that whoever believes in Him should not perish but have everlasting life ^DREAM interpretation ministry
Thread Rating:
OVERCOMING PRIDE
Our Next TOPIC is :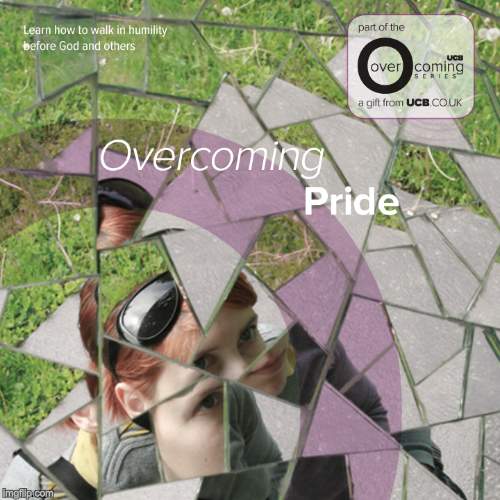 OVERCOMING PRIDE!
Welcomeiiiiiii
Bless you ALL.
Prophet Ebankole
Prophet Ebankole
The following 1 user Likes ebankole's post:
1 user Likes ebankole's post
• Gracemohau
Welcome to Overcoming Pride


'Pride has been the stumbling block of angels, kings and countless others'

Each and every heart is familiar with pride. We might be proud of where we come from. We are proud of our children. We take pride in celebrating the achievements of those we love. But pride has a dark side too. It can affect our actions and attitudes in a negative way, poisoning our relationships with God and with others. None of us is immune to these effects – and if pride is presenting you with challenges at the moment, then you are in very good company. The Bible is quick to offer us the reassurance that pride is both a universal and historical issue. It has been the stumbling block of angels (e.g. Isaiah 14:11–15), kings (1 Kings 1:5) and countless others, from the earliest days of creation (Genesis 3) through to today. In the Bible, pride is a problem – and you might be surprised by just how negative the scriptures are about it. But when we realise that pride is rooted in our sinful struggle for independence from God and a desire to see ourselves glorified rather than Him, it is not so shocking to learn that He feels strongly about it (for instance, read Proverbs 8:13). Coming face to face with the effects of pride in ourselves – whether inflated views of our own importance or stubborn attitudes – will not be a nice process but it's not something that any of us can afford to avoid. Overcoming pride is far more than simply being moved towards modesty. It is a journey towards humility, which is at the core of our salvation and key to a great life. When we seek humility, God promises that He will hear us (e.g. Psalm 55:19), forgive us (2Chronicles 7:14) and lead us in His ways (Psalms 25:9). In humility, we identify with and become like Jesus, who gave up heaven's riches in order to identify and become like us. It is, therefore, the start of a holy journey into the heart of the Gospel. The Overcoming Series is designed to help people like you find God's help in dealing with the challenges that face us all. Contained in these little booklets are big truths from God's Word, guidance on how to pray, and practical suggestions for change.
Prophet Ebankole
The following 2 users Like ebankole's post:
2 users Like ebankole's post
• gracefilled

,

Gracemohau
Pride -

Where do I start?
Humility is not so much the opposite of pride, but the antidote to it

Pride – is it a vice or a virtue?
The world is not sure. Recent university research concluded that pride 'is quite undeserving of its negative reputation [and has] important implications for leadership' and called it 'the fuel that drives individuals to greatness'. Others are less positive, reminding us that pride famously holds a place among the seven deadly sins. Then there is humility. 'Low in rank, importance, status or quality', the dictionary says – hardly an attractive mix. Yet in 2012, Time magazine described humility as 'a quiet, underappreciated strength'. Reporting on research that suggested strong links between humility and helping others, the article went on to highlight studies that found a humble disposition was linked to charitable giving, generous behaviour and compassion. Thankfully, the Bible is refreshingly clear, offering us the right perspective on pride and a true understanding of humility. We can trace the roots of pride right back to satan himself (Isaiah 14:11–15). Once an angel, his desire was that the glory belonging to God alone should be his, but for this he was punished severely and thrown down from the heavenly heights into the fiery depths. Still pulsing with pride, creation had barely begun before satan tempted us also towards equality with God (Genesis 3), and the result had eternal consequences. Sin was born into a perfect world. Because of this, pride is often referred to as the root, or essence, of all other sin. In his book Humility: True Greatness, C.J. Mahaney defines it in this way: 'Pride is when sinful human....
Prophet Ebankole
The following 1 user Likes ebankole's post:
1 user Likes ebankole's post
• gracefilled
True humility is a return to a relationship of unceasing, absolute, universal dependence on God'
beings aspire to the status and position of God and refuse to acknowledge their dependence on him.'



So humility is not so much the opposite of pride, but the antidote to it. Humility acknowledges 'the truth about ourselves, that as creatures we depend on our Creator's power and as sinners, on our Saviour's grace' (Mahaney). Yet without grasping the seriousness of pride and recognising our sin, we may never truly desire it. True humility is a return to a relationship of unceasing, absolute, universal dependence on God and our rightful position before Him in all His glory. Humility is at the very heart of our salvation. Knowing where we are headed is important at the start on any journey and clarity on why we first set out can really sustain us when the going gets tough. If 'Pride is our greatest enemy and humility our greatest friend' (Andrew Murray) then travelling away from one and towards the other is our journey's purpose. Pride will walk with us all gladly – but how many of us are ready to make the walk home to humility?
Prophet Ebankole
Step by step


Your guide to overcoming pride with God's help

---
CJ Mahaney writes, 'The real issue here is not if pride exists in your heart; it's where pride exists'

1.

Lift the Lid on Pride '

…for all have sinned and fall short of the glory of God' Romans 3:23 NIV
We
don't need to 'try' with pride – it's a product of our default human setting, 'sin'. In the Garden of Eden when satan tempted us into sin, he used the 'shrewdest of all the wild animals the Lord God had made', the serpent (Genesis 3:1 NLT). It is no surprise then, that pride can be deceptive (Obadiah 1:3 NIV). Easily cultivated through a variety of everyday situations, it can take root while we are unaware, and disguise itself as we seek to justify our feelings. Unless we are acutely aware of pride within us, how we will begin to address it? This is why overcoming pride leads us into the heart of the gospel: it begins by recognising our sin. CJ Mahaney writes, 'The real issue here is not if pride exists in your heart; it's where pride exists and how pride is being expressed in your life.' So if you're not sure where your pride is hidden, or if it has affected you at all, be cautious of thinking 'more highly of yourself than you ought' (Romans 12:3 NIV). Charles Spurgeon once said that the 'true throne of pride is the heart.' If you are not sure where pride could be hiding in your life, try checking there first.



TRY..


God is well able to reveal hidden areas of sin in our lives. Pray, asking Him to 'lift the lid' on pride in your life'
Prophet Ebankole
2. A Serious Situation ''I hate pride and arrogance' Proverbs 8:13 NIV
I
f we are able to recognise pride in our lives, then we need also to understand the seriousness of our condition. John Stott reminds us that pride 'is the essence of all sin … it is the stubborn refusal to let God be God, with the corresponding ambition to take his place.' Our second step on the journey towards humility is to allow biblical truths about pride to affect our heart. The Bible says, 'The Lord detests the proud; they will surely be punished' (Proverbs 16:5 NLT). When it comes to pride, God's honesty with us is very sobering. Yet it is by grace that he chooses not to hide his feelings from us, and by His mercy that He reaches out to us in our sinful state (Romans 5:8 NIV). Understanding God's position on pride is important: He cannot tolerate it and He did not create you to harbour it. But there is good news: rescue, redemption and restoration are available to all. The seriousness of pride motivates us towards humility and the conviction of the Holy Spirit moves us towards a place a repentance!




TRY..!



Set some time aside this week to soak in some of the key Bible verses concerning pride and humility. (For useful references see the 'More Help' section on page 15.)
Prophet Ebankole
3.

The Cross of Christ

'For the LORD takes pleasure in his people; he adorns the humble with salvation' Psalm 149:4 ESV
N
othing in history or the universe cuts us down to size like the cross' – John Stott. God loves us too much to leave us the way we are. Overcoming pride was never something that we were going to be able to do alone. The cross was the only way that sin could be put to death and now our nail-pierced pride has no power over us. When we stand at the foot of the cross, suddenly we f ind someone who puts our foolish pride into perspective. True humility s personified in Jesus, who '…did not count equality with God a thing to be grasped, but humbled himself by becoming obedient to the point of death, even death on a cross' (Philippians 2:5–8). Jesus '…came to bring humility back to earth, to make us partakers of it, and by it to save us' (Andrew Murray). When we unpack our gift of salvation, we are truly humbled and through the redemption of the cross, we are freed to grow in humility.
TRY...



It's impossible to walk in humility without contemplating the cross of Christ. Spend some time confessing your pride and receive God's forgiveness.
Prophet Ebankole
4.
Lessons in Humility 'Do not let the grace that you received from God be for nothing' 2 Corinthians 6:1



I
f humility is indeed our greatest friend then we would be wise to grow in our relationship with it! Once we have recognised the presence of pride in our lives, accepted the significance of our sin and laid it before the wondrous cross of Christ, we still have a road to travel. As we continue our gospel journey, we remember that the Bible didn't draw to an abrupt end on the day that Jesus rose from the dead. We were given a commission (Matthew 28:18–20), a chance to live again (1 Peter 1:3) and an opportunity to be continually renewed by the power of God at work in us (Philippians 1:6). Here are a few practical suggestions for the journey: TRY... • Glorify God: Worship God by walking in His ways, spending time with Him and committing to learn more about who He is • Look to Jesus: Stay close to the cross. Look to the gospels for Jesus' words and practical examples of humility in practice • Love your neighbour: Servanthood is the fruit of a humble heart. Remember that 'Humility is not thinking less of yourself, it's thinking of yourself less' (C.S. Lewis) • Practice self-examination: Continually review your attitudes and actions. Remember that God opposes the proud, but gives grace to the humble (1 Peter 5:5)
TRY...

GO!
Translating the grace that you have received into purposed, practical actions which give glory to God on a daily basis.
Prophet Ebankole
5. Pride in Perspective
P
ride will have no place in the eternal kingdom of God. However, the realities of living in a fallen world mean that the journey from pride to humility is not a once-in-a-lifetime pilgrimage. In fact, quite the opposite – it should be a well-trodden path, consistently and diligently walked as we press our advantage against 'our greatest enemy'. But with such precious time given to us on this earth, let us not allow pride to hold us back. Sometimes pride can manifest itself in us by producing crippling patterns of thinking and behaviour. It hardens our hearts to God (Hebrews 3:13). It deafens our ears to his voice (Romans 11:7-8) and it stunts our personal and spiritual growth. Remember that pride brings disgrace, but humility wisdom (Proverbs 11:2). Be encouraged to seek support from others if pride is particularly affecting you or others around you.
TRY...
Humility requires vulnerability. Commit to keeping pride in check by teaming up with a trusted friend with whom you can regularly share matters of the heart.
Prophet Ebankole
TENT PEG or FLAG POLE?




THEY SAY THAT PRIDE COMES BEFORE A FALL

.
In my experience as a man who follows Jesus, God makes you take a fall as soon as pride begins to hit you. Let me explain… When I was in banking sales, I won the award for being top salesman in London three times running for my bank. When I planted a church on a tough estate, it grew. When I was 30, I became senior pastor of a large church that also grew. When I spoke at places, people became Christians. When we got into podcasting sermons, they went all over the world. Whatever I seemed to do worked. Sure, I had some bumps along the way and there were always pressure points, but I was going down a dangerous path and had started to believe my own propaganda. God had to do some heart surgery. And it was radical. When I was 33, I moved jobs to start to work in the area of reaching men with the message of Jesus. It was then that the bubble burst. I went to work for a man rather than be senior leader for the first time in years. Suddenly I was the bag carrier and was moving in circles that made me feel like a beginner all over again. My 'office' was a desk in the kitchen. For the first time ever in my life I was living and working outside of London and Essex – my accent stood out and people let me know. I was also overweight and unfit. People let me know. Men's ministry wasn't exactly national f lavour of the month. People let me know.
---
'GOD HAD TO DO SOME HEART SURGERY. AND IT WAS RADICAL'
---
The speaking invites dried up and no one wanted to listen to what I had to say. I would drive for hours to a meeting to find only eight men and a ferret called Geoff had turned up. Sobering to say the least. I was also removed from being able to make executive decisions and use the strategic gifts I thought I had. In other words, to me at the time, I was in a ministry desert. Truth be known, I nearly quit several times in that period.
Prophet Ebankole